PWA | PODERSDORF – 5th
PWA Podersdorf 2010 Day 1 Registration started for the PWA Worldcup season 2010 at 10 am. After receiving all the sponsor/ event / stickers and event lycra's etc It was time for a interview and photos. After all the participents had registered, we had a big welcome meeting from the organizers and the entire EFPT/ PWA crew, regarding the information for the upcomming days.As planned, we supposed to start with the competition at 12:30, unfortunately the wind was to light. After having waited until 7:30 pm. we where released for this day of competition.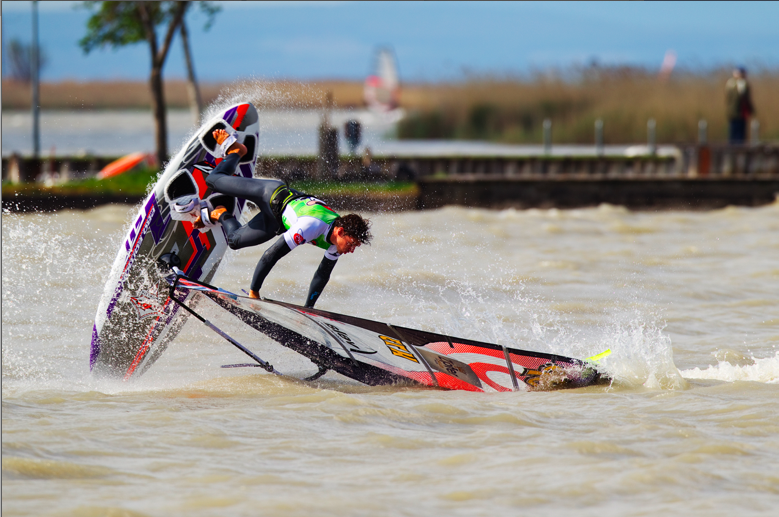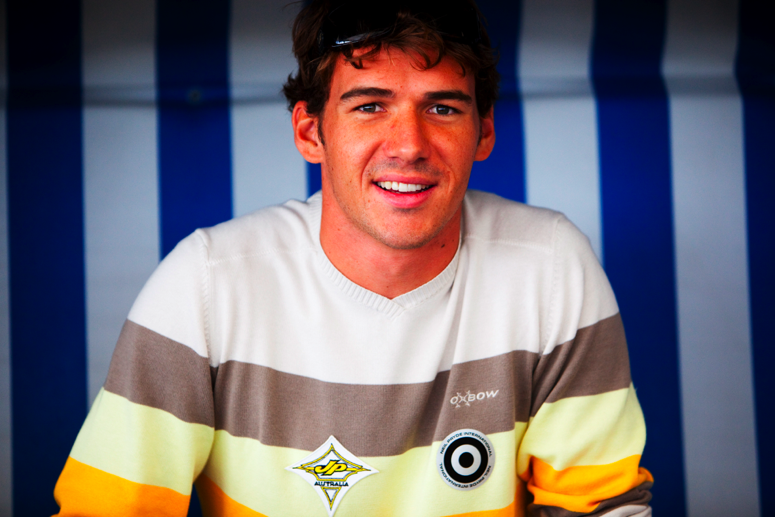 Overall impression The event organisers did a really good job overruling the size of the event, to describe the whole scene in one word; "HUGE". Besides the windsurfing competition and stands from all kind windsurf or wind-/ watersport related brands, there's also a lot of partying going on in 7 different areas. This will also give you a kind of idea of how many visitors were there; thousands (± 5000..) The wheater: The forecast for now doesn't look to promising, warm wheater and not to much wind for the upcoming days. But according to the locals here, the wind can be quit surprising in this area, even when there's a really bad forecast. Let's hope for the best! Around 10:00 am. we had the riders presentation, this was mainly about introducing all the riders to the audience. After that we where told to go on stage again, representing us to main stage and the party audiance. There we got a special vip area and some extra tickets so we could let some special people in.
PWA Podersdorf 2010 Day 2 After having the announcement that there was a slight chance of wind today, it was super windy from 6:00 until 8:00 in the morning. The wind literally woke me up. During the 9AM skippers meeting, the wind already decreased in force. 9:30AM heat nr. 1 was ready to go, unfortunately the wind got even worse. After waiting, resailing the heat twice there was not enough wind to finish the heat. So the PWA crew decided to prospone the competition every 15 min. As for today the wind didn't show up enough, to run a proper competition. Tomorrow skippersmeeting will be held at 6AM, first possible start at 6:15AM. So it will be an early birdie again, because of my first Austrian TV "hottest rider-/man contest". The whole idea was a model working for ATV had to rate our butt, chest and upper body. Highest score rating was 5 point. I scored 2 x 5 and 4+ finishing 2nd. Really stoked haha.
This morning I woke up at 5 clock because the skippers meeting was being held at 6am in the morning, with first possible start 6:15. When I arrived there was some wind, but definitely not enough to run a competition. Also for today not to much developments regarding the weather conditions. There has been some south winds predicted for tomorrow, but usually they fill in the end of the day. Tomorrow the skippers meeting will be at 8:30 so let's hope for the best.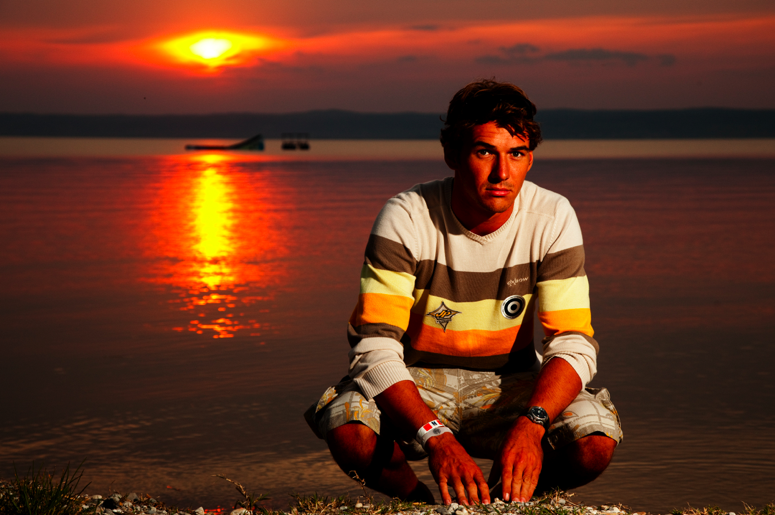 PWA Podersdorf 2010 Day 4  Today we were allowed to sleep a little longer than 5am. Skippers meeting started at 8:30 but the wind was fairly light, with an average 6 knots, which is of course not enough to run a proper competition or to even get on planning speed. The whole day it was rainy and the temperature also dropped quit a lot. Around 15:00 the wind started slowly to increase a little and after a while me including a few other riders decided to go on the water to check the conditions. Unfortunately this was only for a really short period of time and then the wind dropped again to a average of ±8 knots. Tomorrow the skippers meeting will be at 6am again, which means 5am out of bed! Hopefully more news tomorrow, i'll keep you posted!
PWA Podersdorf 2010 Day 5 Today I woke up at 5am in the morning, fresh for the skippers meeting which was at 6am. Only a few riders showed up during the skippermeeting, the rest didn't even showed up before 9. Almost the entire day there was around 0 to 2 knots and the lake was dead flat, great for wakeboarding. During the midday, some of the riders started up a small soccer competition "Europe VS South America". It was a tight game which ended in penalty's, this time won by the South American team. These photos where taken yesterday during the realy, realy, reaaaly light wind. Tomorrow's  skippers meeting will be at 5:30. The wheaterforecast looks the same as today but here in Austria you'll never know!
PWA Podersdorf 2010 Day 6 Just a quick update for now, today I woke up at 4:30AM. First start was at 5:45! Although the wind forecast was looking pretty bad we finally had some wind. Which eventually only increased during the day. The wind was kind of  light, definitely not my favorite conditions! I managed to keep my head cool and sail a lot of powerfull heats. In the end I lost against Nr 2 of the world (Kiri Thode NB 61). My first top 5 in my career, very excited!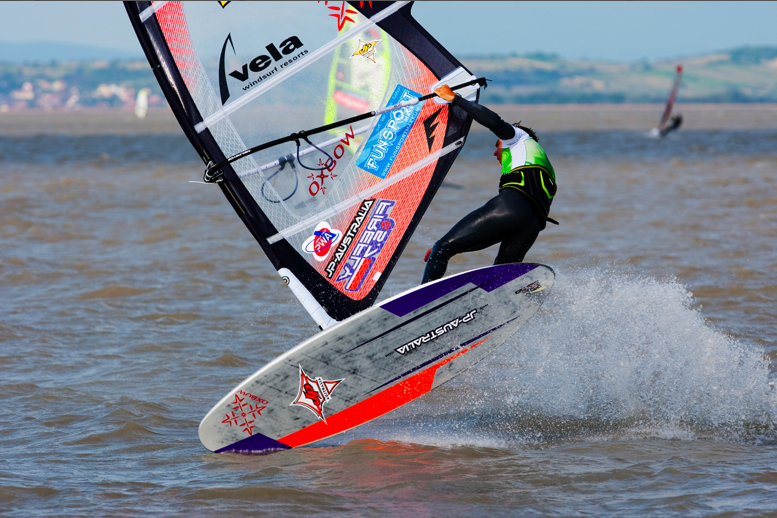 PWA Podersdorf 2010 Final report I just came back from the Worldcup in Podersdorf. I decided to stay one day longer because after competition it was still windy… Good for a sweet freestyle session on my JP Freestyle 98 and my Neilpryde Firefly 5.3 An inside view of the PWA: The competition setup were heats from 7 minutes with 3 minutes transition time. The Freestyle competition format was for 6 moves on both tacks with only the best 3 tricks counting for the overall score.
My first heat (nr 3A) was against French rider Julian Mas (F-7). The wind was quite light, so I decided to start of with some fast powerfull moves instead of waiting for the right gust of wind. This would give me the benefit of having some extra time, incase the wind would drop even more during the heat. I sailed a solid heat and advanced to the next round! My second heat (Heat nr 11B) was against another French rider Leo Ray (F-200). Fortunately this time the wind increased a little, so I could go for some more power moves like Shovit-spocks, No-handed Flaka's and Ponches. But after one minute the wind shifted a little and dropped of quite a lot. But Leo Ray was still planing and throwing moves. Just before the end of heat I was still missing one move on starboard tack. I decided to take a little risk and throwing a really long stalled Chachoo in front of the judges. After landing this move, the red flag went up and I had a good feeling about my score.
Now I moved further in the elimination ladder to another heat (Nr. 18A). My next opponent was Aruban rider Quincy Offringa (Aru-10). As I always train with Quincy in Aruba at the Fishermans Huts, I knew this was going to be an interesting heat. Normally, we always sail together and push each on the water, so I was ready for more action. A few minutes before the start of the heat, the wind increased more so I could sail powerd-up with my Neilpryde Firefly 5.7 and my JP Freestyle 107 pro. I started my heat with a Ponch into flaka, a Shovit-Spock followed by an Air Flaka, than a switch Flaka over the other tack and a Bob one-handed handed over the starboard tack. Now I only had to land a few more moves on port… with a Bob One-Handed, Shaka and Switch Chachoo. After finishing all my moves I was quite happy with my heat and I advanced to another round.
Heat nr. 21B, this was going to be a really tough one against "Vice Worldchampion" Kiri Thode (NB-61 ). Beating this rider in these sort of conditions you'd need a really good heat!! I knew I would have to take some risk to be able to beat him. Kiri was sailing an amazing good heat and I didn't sail such a good one. In the end, the judges announced that Kiri advanced to semi-final and he deserved it. Heat Nr. 21B was for me the last heat of this World Cup, which placed me on a final 5th. position!
After the Competition After that we drove back home (with Steven van Broeckhoven and Davy Scheffers). I planned going straight to a test/promo-event from JP and Neilpryde at the Brouwersdam. Now back home I hope to train as much as I can on flat water and in the waves too. Hopefully this will give me the slight edge improving my big jumps for competitions like PWA Lanzarote and PWA Fuerteventura in the Canary Islands.
*Final top 5 ranking Worldcup Podersdorf:
Taty Frans NB-9 (Bonaire)
Steven van Broeckhoven B-72 (Belgium)
Gollito Estredo V-01 (Venezula )
Kiri Thode NB-61 (Bonaire )
Maarten van Ochten H-73 (Netherlands)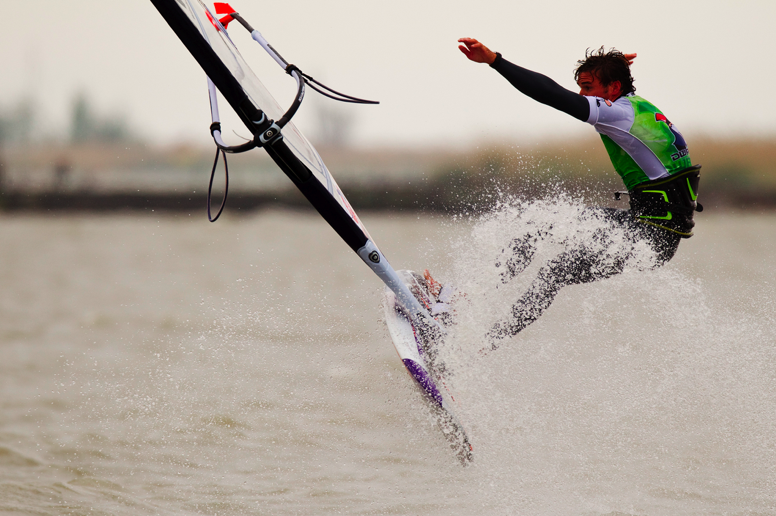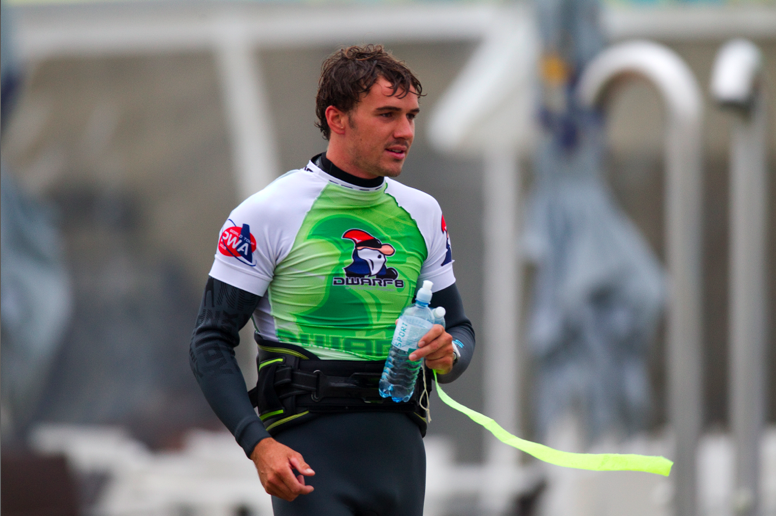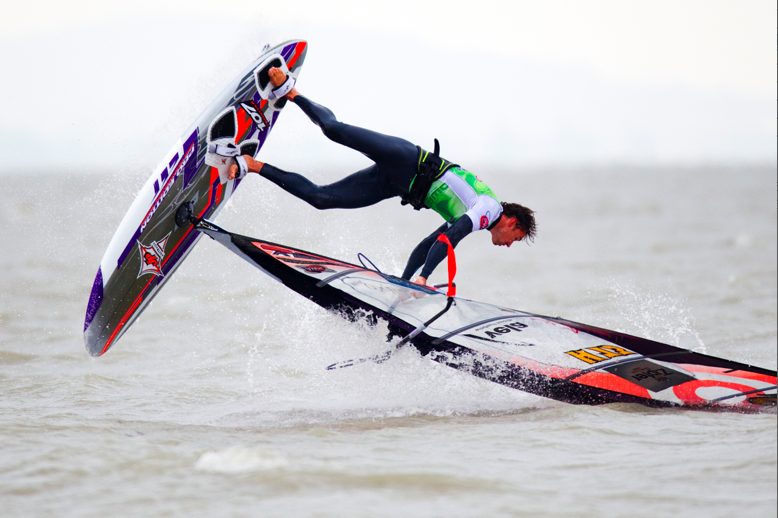 Photos: John Carter PWA